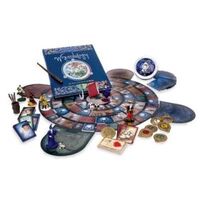 Explore occult dimensions as you plunge into the world of history's most famous wizard, Merlin. In the game, you must free Merlin's spirit, trapped by the evil sorceress. Use the knowledge imparted in the remarkable book to discover the ancient secrets and hidden messages within its elaborately illustrated pages, including fortune telling cards, mini books of spells and potions, and much more. If you are on the go and want to brush up on your wizard skills, take the Spells 'N Potion Card Game along. The easy-to-learn, fast paces, and original card game captures the essence of Wizardology.
Weight - 1 lbs. 1 oz. Assembly Required - No Assembly Required Dimensions - 10.8" L x 3.7" W x 19.3" H Age Recommendation - 8 years to 127 years
Ad blocker interference detected!
Wikia is a free-to-use site that makes money from advertising. We have a modified experience for viewers using ad blockers

Wikia is not accessible if you've made further modifications. Remove the custom ad blocker rule(s) and the page will load as expected.