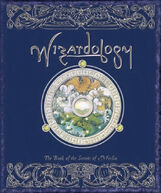 For any apprentice determined to learn the arcane arts of wizardry, could there be a better teacher than . . . Merlin himself? Originally discovered in 1588, this remarkable text by history's most respected wizard is revealed to the world for the very first time. Lavishly illustrated by four delicate artists, WIZARDOLOGY's intricate design even conceals a series of hidden symbols that spell out a secret message when their code is deciphered -- if the reader is clever enough to find them.
Among WIZARDOLOGY's special features are:
-a glittering crystal ball-like jewel on the front cover - a world map showing locations of wizards around the globe - tactile samples of a "fairy flag" with one wish remaining and a phoenix feather to aid in flying charms - booklets explaining the proper use of spells, familiars, and potions - a removable dragon pendant allowing the user to dowse for mythical beasts - a pack of eight removable fortune-tellling cards - a 48-page mini book of divination on the final spread
Afterword
Edit
Aspiring wizards can tune in to the age-old wisdom of Merlin with this dazzling compendium of all things magical -- unveiling novelty elements throughout.
Author:Master Merlin.
Editor:Dugald A. Steer.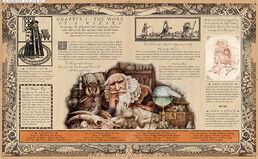 Illustrators:Nghiem Ta,Anne Yvonne Gilbert,John Howe,Tomislav Tomic and Helen Ward.
Information
Edit
USA Price- $19.99
First Release- October 2005
Age Range- 8 years old and up
Grade Range- Grade 3 and up
Hardcover (only)
Number of pages- 32
Size- 9 3/4" x 11 13/16"
1. Disney Adventures Sci-Fi/Fantasy Book of the Year 2. Anita Shreve, author of THE PILOT'SWIFE 3. CBC (Children's Book Council) Children's Choices 4. ALA (American Library Association) Best Books for Young Adults Nominee