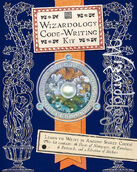 A MUST-HAVE FOR WIZARD LOVERS!
Each beautifully designed slipcase contains simple instructions for mastering magic codes and ciphers, plus:
- 16 sheets of notepaper
- 16 envelopes
- 6 postcards
- 2 sheets of stickers
Afterword
Edit
Need to send a secret message to a fellow wizard? Here are all the tools for a magical correspondence.
author: Master Merlin

illustrator: ,Anne Yvonne Gilbert, John How Tomislav Tomic, Helen Ward,
Information
Edit
USA Price- $9.99
First Release- August 2007
Age Range- 8 years old and up
Grade Range- Grade 3 and up
Hardcover
Number of pages- N/A
Size- 10" x 11-13/16"
Ad blocker interference detected!
Wikia is a free-to-use site that makes money from advertising. We have a modified experience for viewers using ad blockers

Wikia is not accessible if you've made further modifications. Remove the custom ad blocker rule(s) and the page will load as expected.