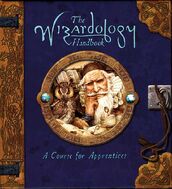 Calling all aspiring wizards! Do you know the appropriate tools (including flattery) to have on hand should you encounter a Western wizard? Have you memorized the spell for summoning a unicorn familiar? Can you follow the steps for releasing magical powers in a lump of rock or piece of metal? What role do natural objects and animals play in the mysterious ways of the shaman? From charts to booklets to lessons, from fascinating stories to free-form spells to create on your own, this elaborate workbook contains all the elements needed for transforming the reader into a wizard
worthy of Merlin himself.
The ultimate companion to the best-selling WIZARDOLOGY -- an indispensable handbook for would-be wizards everywhere
Author:Master Merlin.
Editor:Dugald A. Steer.
Illustrators:Anne Yvonne Gilbert,Helen Ward,John Howe and Tomislav Tomic.
Information
Edit
Wizardology: The Book of the Secrets of Merlin Wizardology