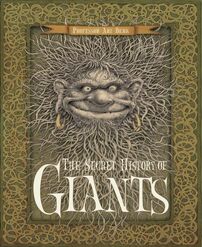 Are there giants among us? Find their story writ large in a lavish exploration touching on folklore and myth, truth and whimsy.
Ancient Greece had its Titans, the Celts their Green Knight, the Bible Goliath — and for those who know where to look, signs of these legendary hulking creatures still abound. Now comes a hugely engrossing chronicle of giants since antiquity, from their role in forming mountains and causing earthquakes to the mysteries of their sacks (watch out for hitchhiking humans); from their means of employment (how did the Druids built Stonehenge?) to an extensive map of places around the world where giants may likely be found. Exhaustive and lushly illustrated, this enormously valuable resource is sure to fascinate all who open its covers.
Special features include:
sundry flaps, booklets, and gatefolds
a lavish foiled and embossed cover
an elegant tassel dangling from the spine
Professor Ari Berk Illustrated by Various
Information
Edit
USA Price- $16.99
First Release Date- Semptember, 23 2008
Age Range- N/A
Grade Range- N/A
Hardcover
Number of Pages- 48
Size- N/A
Ad blocker interference detected!
Wikia is a free-to-use site that makes money from advertising. We have a modified experience for viewers using ad blockers

Wikia is not accessible if you've made further modifications. Remove the custom ad blocker rule(s) and the page will load as expected.