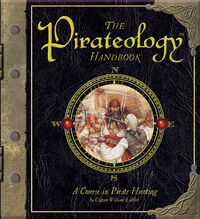 Ahoy, mates! Can you tell fore from aft and port from starboard? Can you tie a reef knot with your eyes closed? Do you know what misdemeanors to avoid at sea? Are you practiced in the art of decoding a treasure map?
Charts
Maps
Stickers
Lessons,
Cautionary tales of pirates through history
Afterword
Edit
Working through the ranks from cabin boy to able seaman to bo'sun, readers aspire to the title of well-feared captain of their own ship. Pirates beware!
Yo, ho, ho! Pirate hunters will be quick to capture this invaluable companion to the best-selling Pirateology.
Author:Captain William Lubber.
Editor:Dugald A. Steer.
Information
Edit
USA Price- $12.99
First Release- March 2008
Age Range- 9 years old and up
Grade Range- Grade 4 and up
Hardcover (only)
Number of pages- 80
Size- 7 1/16" x 8 1/4"