The Librarian has revealed a new room in Ology World and you don't want to miss it! The Ology Pod has been claimed a new room in the library. Explore this room to find cool activity sheets and everything you want to know about the new book, Spyology. You can even see a video showing what's inside the book! Find this room at the top of the spiral staircase and join the mission with hidden codes.
Find it on: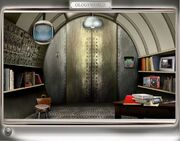 Ology World
.
Ad blocker interference detected!
Wikia is a free-to-use site that makes money from advertising. We have a modified experience for viewers using ad blockers

Wikia is not accessible if you've made further modifications. Remove the custom ad blocker rule(s) and the page will load as expected.