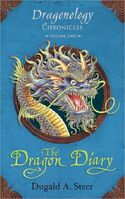 This is the second book in the projected series of four
Dragonology
Novels
.
Dugald A. Steer
Information
Edit
USA Price- $12.99
First Release- September 2008
Age Range- 9 years old and up
Grade Range- Grade 4 and up
Hardcover with jacket
Number of Pages-
Size- N/A
The Dragonology Chronicles Volume One: The Dragon's Eye
The Dragonology Chronicles Volume Three: The Dragon's Apprentice
Ad blocker interference detected!
Wikia is a free-to-use site that makes money from advertising. We have a modified experience for viewers using ad blockers

Wikia is not accessible if you've made further modifications. Remove the custom ad blocker rule(s) and the page will load as expected.