The Dragon's Apprentice is the third in a projected series of four Dragonology Novels. It was released on May 11 2011 and revolves around Dr. Drake's hunt for missing European Dragon chick Torcher, who disappeared at the end of The Dragonology Chronicles Volume Two: The Dragon Diary.
Candlewick Press Description
Edit
As the third volume in the Dragonology Chronicles begins, Daniel and Beatrice Cook, along with their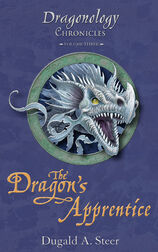 parents and their dragon chick, Torcher, are getting ready to open an orphan dragon sanctuary in St. Leonard's Forest. At last, they can live as a family! But their joy is short-lived when Dr. Drake brings ominous news: several dragon members of the Society of Dragons have been attacked, and it looks to be the work of the Dragonsbane Knights, a secret society of dragonkillers who were thought to have been eradicated centuries ago. Then poor Torcher is kidnapped, and Daniel and Beatrice, with the help of an adolescent dragon named Erasmus, set out to rescue him. Along the way, they uncover a traitor within the Secret and Ancient Society of Dragonologists itself, the greatest threat the group has faced in hundreds of years! Can Daniel and Beatrice find a way to bring down the traitor -- and thwart the return of the Dragonsbane Knights?
When their dragon chick is kidnapped, two young dragonologists must team up with the Guardian Dragon's apprentice - and race against time - as the fire-breathing series continues!