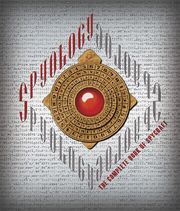 A new level for Ology.

The year is 1958, and British spy Spencer Blake, aka "Agent K," is on an undercover mission to expose a deadly criminal organization. As he traverses the globe with his American and Soviet cohorts -- from Scotland to Berlin to Las Vegas to Cuba -- he furtively records his secret techniques in a manual for new recruits.
Once they've primed themselves on the essentials of spy craft, keen-eyed readers will discover that Agent K has been setting them challenges and clues to decipher all along. If they are clever enough to unravel them all, a great reward awaits!
Afterword
Edit
A spy reveals startling secrets and carries out a breathless mission -- in an astonishing guide that takes the 'Ologies to a new level. 😀
Information
Edit
USA Price: $22.99
First released: October 2008
Age Range: 8 years old and up
Grade Range: Grade 3 and up
Format: Hardcover
Number of Pages: 32
This is the first book which is put primarily in a story format.
This is also the first book to not to include details of the past or fantasy. 1958 is the second most recent setting in the Ology series, after 1969 for Alienology.
Spyology seems to be the only book in the series, as no Spyology Handbook has been announced.