How do pirates capture a ship? What sort of ships do they favor? Who are the rogues that make up a pirate crew -- and how do they entertain themselves, or punish each other? After poring through a twenty-four-page book that presents a true taste of life aboard a pirate vessel, young pirate hunters can turn their skills to assembling a model of a typical pirate ship. With this sturdy ship model at hand, savvy pirate hunters are sure to spot any scurvy dogs from leagues away. Aar!
Avast, ye PIRATEOLOGY fans! Behold, an exclusive guide to the goings-on aboard a pirate vessel -- plus an exciting scale model of a real pirate ship.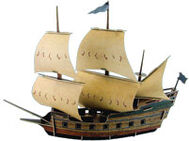 author: Captain William Lubber
editor: Dugald A. Steer
Information
Edit
USA Price- $17.99
First Release- May 2007
Age Range- 8 years old and up
Grade Range- Grade 3 and up
Hardcover
Number of Pages- 24
Size- 10" x 11-13/16"