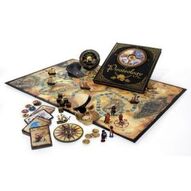 Shiver me timbers. Join the crew of
Captain William Lubber
, who sailed in search of the vicious female
pirate
,
Arabella Drummond
. It will be a challenging journey, requiring all the skill and stamina you can muster. The
Pirateology Board Game
pushes you along, with danger at every moment. Your quest is to hide gold and out-smart, out-battle and ultimately out-live your opponents. Engage in piracy and battles aboard ships in this all out game of pirate greed and deceit. The Pirateology Splice Card Game is an exciting game to collect the pieces of the treasure map that lead to their gemstone treasure. But just as any Pirate adventure, there's lots of ways your opponent can hinder your quest!
Assembly Required - No Assembly Required Dimensions - 10.8" L x 3.7" W x 19.8" H Age Recommendation - 8 years to 127 years
Ad blocker interference detected!
Wikia is a free-to-use site that makes money from advertising. We have a modified experience for viewers using ad blockers

Wikia is not accessible if you've made further modifications. Remove the custom ad blocker rule(s) and the page will load as expected.