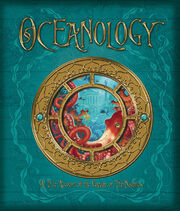 Oceanology: The True Account of the Voyage of the Nautilus
 was released on the 1st July 2009.
Templar.com Description.
Edit
The latest title to join the bestselling Ology phenomenon, Oceanology purports to be the true account of the incredible voyage undertaken by Captain Nemo in his submarine the Nautilus. This notebook was compiled in 1863 by the ship's sixteen-year-old reasearch assistant, Zoticus de Lesseps, and records his findings, from the wonders of the natural world to the undersea kingdom of Atlantis. When tragedy strikes, leaving Zoticus as sole survivor, he bequeaths this journal to Jules Verne-could it be inspiration for Twenty Thousand Leagues Under the Sea?
This is a thrilling adventure, packed with information on the oceans and their inhabitants, as well as a host of novelties, including a stunning 3D lenticular on the front cover.
Two clear jewels on the cover, embossing and gold foil plus die-cut window through to 3-D lenticular on title page. Novelty elements include card flaps, envelopes and booklets, texture patches, pop-up dice and embossed pearl jewel novelty.
Author: Zoticus de Lesseps.
Editors: Emily Hawkins and A.J Wood.
Illustrators: Wayne Anderson, Ian Andrew, Gary Blythe and David Wyatt.
The Oceanology Handbook has also been released in this series.