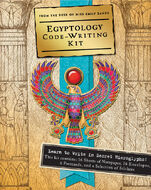 If your aim is to master hieroglyphics, this ornate writing kit includes everything you'll need. Inside are simple instructions as well as writing paper, envelopes, postcards, and sticker sheets, all in a handsomely designed slipcase.
Each kit contains: - Code-making instructions - 16 sheets of notepaper - 16 envelopes - 6 postcards - 2 sheets of stickers
Afterword
Edit
The perfect hands-on gift for 'Ologists! Learn the keys to cracking secret codes -- and use cool stationery to send missives to your friends.
Author: Emily Sands.
Illustrator: Nghiem Ta, Nick Harris, Ian Andrews and Helen Ward.
Information
Edit
USA Price- $9.99
First Release- November 2007
Age Range- 8 years old and up
Grade Range- Grade 3 and up
Hardcover
Number of pages- N/A
Size- 10" x 11-13/16"