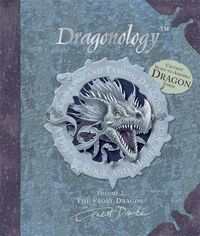 Open this deluxe guidebook and model package and find the complete twenty-four-page TRACKING AND TAMING DRAGONS, in which preeminent dragonologist Dr. Ernest Drake shares his expert tips and strategies for setting out on the trail of dragons in the field. What's more, each package features an easy-to-assemble, lifelike hanging model of Draco occidentalis maritimus, or the frost dragon, with a 23-inch wingspan and movable wings!
Afterword
Edit
Here comes the frost dragon, the hot species of the season! Get on track with this essential companion to the #1 bestseller DRAGONOLOGY.
Ernest Dr Drake
Douglas Carrel
Dugald A. Steer
Information
Edit
USA Price- $14.99
First Release- December 2008
Age Range- 8 years old and up
Grade Range- Grade 3 and up
Hardcover box with paperback book
Number of pages- 24
Dragonology Tracking and Taming Dragons A Deluxe Book and Model Set Volume 1: European Dragon
Ad blocker interference detected!
Wikia is a free-to-use site that makes money from advertising. We have a modified experience for viewers using ad blockers

Wikia is not accessible if you've made further modifications. Remove the custom ad blocker rule(s) and the page will load as expected.