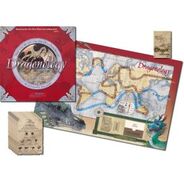 Gather knowledge on dragons as you adventure around the world by air, land and sea. This game is based on the best-selling book Dragonology and features detailed figurines and a beautifully crafted board. Kids and adults can both appreciate the exciting adventure game of Dragonology! Choose three of the nine dragons to master and advance to the Dragon's Eye to win! This is a wonderful game for 2 to 6 players.
Description.
Edit
Who will become the Master Dragonologist? This high-adventure board game is based on the NY Times best-selling title, Dragonology. Players travel around the globe by air, land and sea collecting Dragons and knowledge. Learn about the nine different species of dragons on your quest by using ancient spells and dragon charms to help in your pursuit. The object of the game is to master any three of the nine dragons and be the first to advance to the dragon's eye. This game is beautifully crafted and the pieces and board are intricately detailed. With the same authentic look and feel as the book,Dragonology: The Game includes a game board that is also an ancient map, nine exquisitely detailed 3D sculpted dragons, six well-acclaimed Dragonologist figures, knowledge cards, transportation tickets and a 12-sided die. Dragon figures are of the European, Mexican Amphithere, Cockatrice, Frost Dragon, Gargouille, Chinese Lung, Knucker, Wyvern and the Marsupial Dragon. This game takes approximately 60 minutes to play. This is a wonderful game for 2 to 6 players.
Features.
Edit
Board game based on the New York Times bestselling book,Dragonology. Be the first dragonologist to master knowledge of three dragons and advance to the Dragon's Eye Use ancient spells and dragon charms to complete your quest Includes 6 exquisitely detailed,three-dimensional dragonologist playing pieces, 9 types of dragons to research,81 knowledge cards, 30 transportation tickets,a special Secret Envelope and full instructions. Play as Dr. Ernest Drake– or one of his distinguished colleagues– and find out once and for all who deserves the title of "Master Dragonologist.".
Ad blocker interference detected!
Wikia is a free-to-use site that makes money from advertising. We have a modified experience for viewers using ad blockers

Wikia is not accessible if you've made further modifications. Remove the custom ad blocker rule(s) and the page will load as expected.