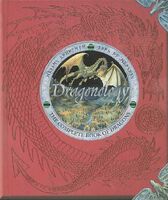 Do you believe in dragons? Now, for the first time, the long-lost research of renowned nineteenth century dragonologist Dr. Ernest Drake is presented in all its eccentric glory, happily bridging the gap between dragon legend and fact. The meticulous Dr. Drake assigns Latin names to various dragon species, ruminates on why dragons are able to speak, speculates on how they could fly, and explains the true purpose of their notorious hoarding habits.
-- Novelty item on every spread, including tactile samples of dragon wings, dragon scales, and dragon skin
-- Booklet of dragon riddles (indispensable to the burgeoning dragonologist)
-- Sealed envelope containing a powerful dragon-calling spell
-- Embossed faux leather cover with silver foil, encrusted with three dragon gems
Back-cover text
Edit
"No doubt but there is none other beeste comparable to the mightie dragon in awesome power and majestie, and few so worthy of the diligent study of wise men."--Gildas Magnus, Ars Draconis, 1465.
Contributors
Edit
Helen Ward ("Scientific Artist")
Douglas Carrel ("Chief Draughtsman")
Wayne Anderson ("Pictorial Artist")
Chris Forsey ("Cover Linework")
Nghiem Ta ("Artistic Direction")
A. J. Wood ("Benefactor & Friend")
Afterwords
Edit
In his afterword, Dr. Drake reveals that one of the crucial goals of dragonologists is to preserve the magnificent creatures of their study wherever possible - a goal this tongue-in-cheek volume most affectionately achieves. An incomparable gift for secret dragonologists everywhere! For true believers only, a lavishly illustrated reproduction of a legendary volume by the world's most distinguished dragonologist. Don't let it fall into the wrong hands!
author: Dr. Ernest Drake
editor: Dugald A. Steer
Infomation
Edit
First Release- November 2003
Age Range- 8 years old and up
Grade Range- Grade 3 and up
Hardcover(only)
Number of Pages- 32
Size- 10" x 11-13/16"
1. IRA Young Adults' Choice
2. ALA (American Library Association) Best Books for Young Adults
3. ALA (American Library Association) Quick Picks for Reluctant YA Readers
4. USA Today, "Top 150 Best-selling Books" List
5. Chicago Public Library Best Books for Children and Teens
6. Book Sense Weekly Bestseller List
7. Anita Shreve, author of THE PILOT'SWIFE
8. ALA (American Library Association) Best Books for Young Adults Nominee
9. Oppenheim Toy Portfolio Gold Award Winner
The Dragonology Handbook: A Practical Course in Dragons