Dr. Ernest Drake.
Biographical information
Ology
Dragonology; Monsterology
Nationality
British
Species
Human
Death
Died of Old Age
Personal Information
Family
unrevealed
Profession
Dragonologist; Dragon Master; Monsterologist; Head and Founder of the Societas Monstrorum
Notable Allies
S.A.S.D.; Societas Monstrorum
Physical Description

Gender

Male

Hair Colour

Grey

Notable Features

A Beard that reaches from the side burns

Hight

Unrevealed

Eye Colour
Unrevealed
Ological Information
Goal(s)
To Save Dragons; and to preserve Fabulous Beasts
Objective
Partially successful
Position in Ologyverse
Author of Dragonology and Monsterology.
Dr. Ernest Drake was the in-universe author of the Dragonology and Monsterology series as well as being head of the S.A.S.D..
Biography
Edit
Dr. Drake was born in 1837 and studied at St. Leonard's School, where his love of Dragons was quickly noticed by the teachers. However, they could not dissuade him and he entered the S.A.S.D., making major contributions in fieldwork by investigating the dragons which lived near his house, Castle Drake, in Surrey. Later on, in 1874, Miss Ta introduced him to Oriental Dragons. Ernest ran Dr. Drake's Dragonalia, a small London shop dedicated to dragons on Wyvern Way, along with an American assistant named Emery Cloth. He also made much progress in the field of dragon rearing and teaching students, particularly the Cook children. Eventually he got the honour he deserved,the title of Dragon Master.
Later Work
Edit
He also studied fabulous beasts in Monsterology and set up the Societas Monstrorum to conserve them. Dr. Drake commited his teachings to paper in numerous books. He died in 1912, aged 75.
Currently, Dr. Drake holds the record for most Ology books published.
Dr. Drake was the first Ologist to be published by Templar.
Dr. Drake's image in seen in the Dragon Eye's this was later the design for the face in the Dragonology Chronicles.
Dr. Drake is one of the Ologists to have actively appeared in their main book.
-----------------------------------------------------------------------------------------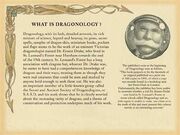 Doctor Ernest drake loves all creatures... Rather they are
european, A knucker, or a amphithere
this just proves how we need to love creatures