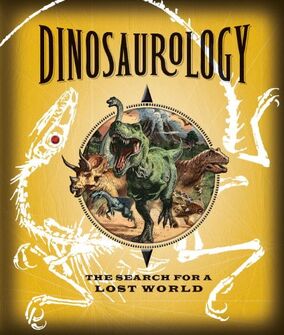 Dinosaurology: The Search for a Lost World is the 12th main installment of the Ology series by Dugald A. Steer. It is set in 1907, when explorer Percy Fawcett and his assistant Rimes as they set out to find the mysterious lost island of Yannapalu, where they make a shocking discovery: Dinosaurs still live on Earth!
Dinosaurology was released September 24th, 2013.
The book follows standard Ology format, including flaps and folds. It is written in an "explorer's journal" format similar to Egyptology. The book includes enclosed samples such as "ground Stegosaurus horn." It will most likely include a special secret at the end, like all other Ologies (i.e. Dragon's Eye in Dragonology, Amulet of Osiris in Egyptology, Harpier's Book in Wizardology).
Animals Featured
Edit
Dinosaurs
Allosaurus
Ankylosaurus (on cover)
Apatosaurus
Archaeopteryx
Baryonyx (claw only)
Brachiosaurus
Brontosaurus
Centrosaurus
Compsognathus
Dacentrurus
Deinonychus
Diplodocus
Edmontosaurus (referred to by its invalid name Anatotitan)
Euoplocephalus (referred to by its invalid name Stereocephalus)
Gallimimus
Gigantoraptor
Hadrosaurus
Hylaeosaurus
Hypsilophodon
Iguanodon
Lambeosaurus
Maiasaura
Megalosaurus
Microraptor
Nothronychus
Olorotitan
Ornithomimus
Oviraptor (beak only)
Parasaurolophus
Sinornithosaurus (tooth only)
Stegoceras
Stegosaurus
Styracosaurus
Suchomimus
Torosaurus
Triceratops
Troodon (tooth only)
Tyrannosaurus
Velociraptor
Non-dinosaurs
Ammonite
Archelon
Ceratogaulus
Carcharocles megalodon
Coelacanth
Dawndraco (treated as a species of Pteranodon)
Dimorphodon
Dolichorhynchops
Dsungaripterus
Elasmosaurus
Geosternbergia (treated as a species of Pteranodon)
Glyptodon
Hatzegopteryx
Ichthyosaurus
Liopleurodon
Machairodus
Mammuthus
Megacerops (refered to by its invalid name Brontops)
Megaloceros
Meganeura
Megatherium
Mesonyx
Mosasaurus
Plesiosaurus
Protohippus
Pteranodon
Pterodaustro
Rhamphorhynchus
Sarcosuchus
Tupuxuara